Adding Eggs to Your Balanced Diet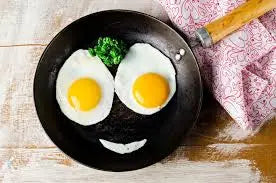 Friday, March 12, 2021
Neil Coombs
Adding Eggs to Your Balanced Diet
Eggs are for life. Not just for Easter 
As Easter approaches, thoughts turn naturally to eggs. There's the extra-thick, double chocolate variety, or the everyday kind from hens. Guess which one we'd recommend!  
Trouble is, eggs often get a bad rap. They're high in cholesterol compared to other foods, so a lot of people are unsure whether to include them in their diet.  
We'd like to set your mind at rest. Studies show that dietary cholesterol in eggs doesn't adversely affect cholesterol levels in the blood.  
As part of a balanced, healthy lifestyle, eggs are great. They're a fantastic source of protein and 'good' HDL cholesterol. They're also packed full of vitamins, minerals, unsaturated fats and nutrients. 
So, get cracking!  
Top tips when adding eggs to your diet:  
1. Frying an egg can increase its fat content by up to 50%. Better to boil, poach or scramble.  
2. Scramble in a non-stick pan to avoid adding oil. And use skimmed milk or a non-dairy alternative instead of cream.  
3. Made in the morning, a hard-boiled egg makes a healthy, protein-rich snack to keep hunger at bay until lunchtime.  
4. An egg-white omelette keeps the calories down, but you'll miss out on all the vitamins and nutrients if you always lose the yolk.
5. Have you thought about baking eggs with your favourite vegetables? Frittatas & shirred eggs are a great way to up your veggie intake in a delicious and healthy way. 
1 https://www.tandfonline.com/doi/abs/10.1080/07315724.2004.10719429#.UvNz1bT1adA
https://www.ncbi.nlm.nih.gov/pubmed/23021013
https://www.ncbi.nlm.nih.gov/pubmed/19369056.