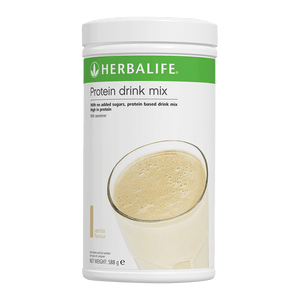 Description
Protein Drink Mix (PDM) is an ideal way to boost your protein intake throughout the day.
15g of high-quality protein
20 essential vitamins and mineral
7g of carbohydrates
Can be made with water
108 kcal
Protein Drink Mix provides 108 kcal per serving, 14.9 g of high quality of protein to help build muscle mass. Each serving also provides 20 vitamins and minerals to help you reach your recommended daily intake, including B vitamins (Thiamin, Riboflavin and B12) and copper to help support normal energy metabolism; and zinc and manganese to help protect cells from oxidative stress.
---
Servings
Protein Drink Mix is a 550g tub and contains 21 servings.
---
What is it
Please note, Protein Drink Mix is not a meal replacement! It's a convenient add-on drink to help you hit your daily protein requirements or reach your weight loss goals.
---
How to use it
This great new product can be consumed in 2 delicious ways. Prepare it as a tasty, calorie controlled high protein snack, or add it to your favourite shake, for an indulgent, rich, creamy drink.Simply add 2 scoops to either 300ml of water for a high protein snack or to your favourite Formula 1 Shake with water.
Loving the new flavour
Amazing flavour hoping it stays around a while