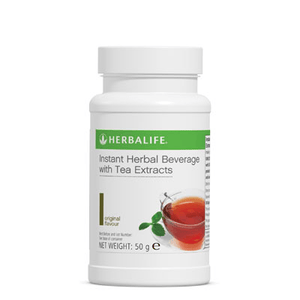 Description
A refreshing and invigorating herbal beverage combining ancient herbal wisdom with modern-day ingenuity. HerbaChoices has carefully formulated Instant Herbal Beverage to provide a versatile alternative to traditional beverages, with an exhilarating low-calorie beverage blended from five fast-acting natural botanicals.
A healthy and delicious green tea beverage in an instant.
With green tea extract
Available in four refreshing flavours.
Quicker to make than other green teas — no need to brew!
---
How to use
Add half a teaspoon of the powdered beverage to one cup or mug of hot water, and stir. Add a splash of cold water to drink instantly.
The tea can also be added to cold or chilled water, to create a refreshing and hydrating drink for exercise or when the weather's hot.
---
Watch me
---
Servings and flavours
The 50g pots of Herbal Beverage make approx one cup of tea per day for 30 days, and are available in the following flavours:
Original (green tea)
Lemon
Peach
Raspberry
The 100g pot (Original flavour only) is better value and makes approx two cups of tea per day for 30 days.
---
Further information
The Perfect Pick-Me-Up - Herbal Beverage or Liftoff
A Coffee to Go at the Gym