Stay on Track With Your Fitness During Stress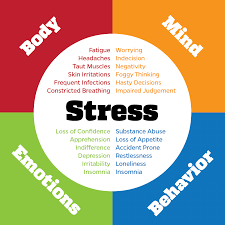 Sunday, February 14, 2021
Neil Coombs
Stay on Track With Your Fitness During Stress
When life delivers difficult situations, you must learn to find your balance and stay on track.
A stressful situation can result in hardly eating and being inactive for several days. Emotional wellness has an impact on our health and fitness goals, but we need fuel, we need to be active and we need to find balance, even when life poses challenges.
First, ask yourself some questions to help you keep your health and fitness goals on track:
What is your go-to safety mechanism when dealing with a stressful or emotional situation?
Are you a stress eater or someone who fasts during times of stress?
Do you sit around, or do you exercise to keep your mind off the issue at hand?
Not finding balance during stressful times can have major consequences on health and well-being. Here are some tips to help stay focused when your emotions get the best of you.
How to Get the Stress Out
Keep a list
Writing out a to-do list is a great way to make sure you accomplish all of your tasks. Checking things off your list will also make you feel good, and ensure you don't add any more stress by dropping your responsibilities. Even if your mind is preoccupied, your to-do list will ensure you don't forget things.
Plan your meals
I've found that planning meals in advance can mean that you don't find reasons to skip eating or reach for junk food. Put grocery shopping on your to-do list and fill your list with loads of fruits and veggies. It's essential for your body to get proper fuel during stressful times.
Plan fun activities
Looking forward to something can help boost your mood. It can be something as simple as a yoga class, or a bowling night with friends or family. Just as long as you plan to get out of the house for a little while, it can make a difference in the way you feel.
Make time for a walk
Whether you're at home or at the office, schedule regular walking breaks. Not only is it a way to clear your mind and get some fresh air, it's the perfect way to get active when you have other things on your mind.
Spend active time with friends and family
Spending time with loved ones during stressful times may help keep your mind off the root of the problem. Active time is much better than simply sitting around, because it's less of an opportunity to start snacking or pondering unhelpful thoughts. Spending time with loved ones will also give you the emotional support you need during difficult times.
Avoid unhealthy snacks
Eating sugary foods will only give you a temporary feel-good moment. The extra sugar in your system may temporarily boost your energy levels, but it's always followed by a crash. My advice is to snack on healthy protein-rich foods.
I hope you can use some of my tips to help stay on track next time you have a stressful situation. Your emotional well-being is just as important as your physical health. The two seem to be linked pretty closely, so be aware of your actions and try to protect your health.