Sherry-Braised Chicken and Mushrooms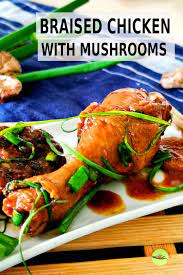 Monday, July 12, 2021
Neil Coombs
Sherry-Braised Chicken and Mushrooms
This protein-packed, sherry-braised chicken and mushroom recipe is nutritious and ready in less than 30 minutes.
Between family obligations, kids' homework, errands and appointments, today is harder than ever to find time to cook. This recipe combines seared chicken with mushrooms for a healthy and quick meal that will satisfy your hunger, and it will provide all the protein you need in less than 30 minutes.
The combination of dry sherry and mushrooms will create the perfect flavor to make your mouth water. Pair it with a spinach salad and brown rice and have a healthy, complete meal for any night of the week.
25 g protein/400-calorie meal
(Divide into 4 servings.)
40 g protein/600-calorie meal
(Divide into 3 servings.)
1 lb.
Chicken breast tenders
Salt and pepper to taste
Small amount of flour for dredging
2 TBSP
Olive oil
½ lb.
Fresh mushrooms, thinly sliced
½
Small onion, halved and thinly sliced
2
Celery stalks, thinly sliced on a diagonal
 ¼ cup
 Chicken broth
 ¼ cup
Dry sherry or white wine
 ¼ cup
Dried tarragon
Spread flour on a flat work surface. Dip chicken in flour on both sides, set aside, and sprinkle with salt and pepper. Heat a large skillet over medium-high heat, then add oil. When hot, add chicken in a single layer and brown on one side. Turn chicken over, continue cooking until cooked through, about 6-7 minutes. Transfer chicken to a plate, cover to keep warm, and set aside.
Add mushrooms, onion and celery to skillet. Cook, stirring, until vegetables are tender, about 5-7 minutes. Add broth, sherry and tarragon, and raise heat to high. Cook and stir until sauce is reduced and thickened to a few tablespoons, about 2 minutes. Return chicken to the pan and stir gently to coat with the sherry glaze.
Suggestion: Complete your meal with a spinach salad and brown rice. See Meal Builder for amounts for your Plan.