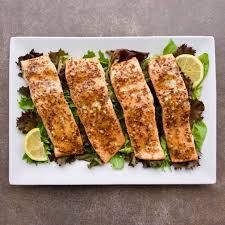 Monday, July 12, 2021
Neil Coombs
Mustard-Baked Salmon
Mustard and lime are the perfect ingredients to prepare this mouthwatering salmon in less than 20 minutes, from start to finish.
The preparation couldn't be easier. It's a healthy and easy 400-calorie recipe for a casual family dinner or a special occasion. Cook to impress. Pair it with a green salad and baked sweet potato and make this dish part of your healthy dinner.
25 g protein/400-calorie meal
(Divide into 4 servings.)
40 g protein/600-calorie meal
(Divide into 3 servings.)
2 tsp
Olive oil
1 ¼ lb. (about 600 g)
Center-cut wild salmon filet
Salt and pepper to taste
¼ cup (75 g)
Plain Greek-style yogurt
2 TBSP
Stone-ground mustard
2 tsp
Fresh lemon juice
½ tsp
Dried tarragon
Preheat broiler. Line a baking sheet with foil, and coat lightly with 2 teaspoons olive oil. Place salmon, skin side down, on the baking sheet. Season with salt and pepper. In a small bowl, stir together the yogurt, mustard, lemon juice and tarragon. Spread evenly on top of the salmon. Place salmon under the broiler, about 5 inches (about 15 centimeters) away from the heat, and broil until cooked through, about 10-12 minutes.
Suggestion: Complete your meal with green beans, baked sweet potato and tossed green salad. See Meal Builder for amounts for your Plan.