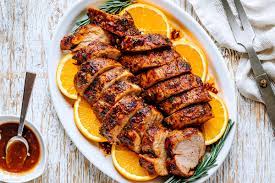 Monday, July 12, 2021
Neil Coombs
Juicy Pork Tenderloin
This protein-packed, grilled pork tenderloin recipe, full of flavor and with only 400 calories, will melt in your mouth.
This amazing grilled pork tenderloin recipe is moist, full of flavor and only 400 calories. There is no major preparation – just a quick dry rub.  Pork tenderloin is one of the easiest meats to cook and one of the leanest, but you must be careful not to overcook it, or it will be dry. This recipe will seal in the juices, and the meat will melt in your mouth. It's the perfect protein to pair with some veggies and pasta.
25 g protein/400-calorie meal
(Divide into 4 servings.)
40 g protein/600-calorie meal
(Divide into 3 servings.)
1 (about 1 ¼ lb.)
Pork tenderloin
2 TBSP
Olive oil, divided
1 tsp
Salt
½ tsp
Freshly ground pepper
1 tsp
Brown sugar
½ tsp
Ground cumin
½ tsp
Dry mustard
¼ tsp
Garlic powder
Preheat oven to 400 degrees. Trim tenderloin of any fat and silver "skin," and pat dry with paper towels. Pierce in a few places with a fork and coat with 1 tablespoon olive oil. In a small bowl, mix together salt, pepper, brown sugar, cumin, mustard and garlic powder. Coat pork tenderloin with the seasoning mixture.
Heat large ovenproof skillet over medium-high heat. Add 1 tablespoon olive oil and sear pork on all sides until nicely browned, about 7-8 minutes. Place skillet in preheated oven for 10-15 minutes, or until meat reaches an internal temperature of 145 degrees Fahrenheit. Transfer pork to a cutting board and let rest for 5-10 minutes, then slice into small medallions across the grain.
Suggestion: Complete your meal with steamed broccoli and whole grain pasta.