Herbalife 24 Review from Middle Aged Man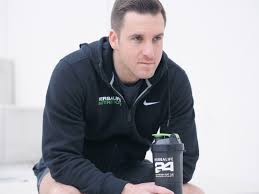 Sunday, February 14, 2021
Neil Coombs
Herbalife 24 Review from Middle Aged Man
With summer closing in on us and the holiday season in full flow, it's that time of year when we all desire that "beach body" for the perfect summer selfies and Instagram poses. We all have our own way of getting the desired look and for Robbie from Middle Aged Man it tends to revolve around a healthy and balanced diet alongside regular exercise, whether it be cardio, weight training or a mix of both.
In order to make sure that his body stays hydrated and his muscles recover from this exercise, he turned to Herbalife 24 and our range of fitness supplements which are scientifically developed in order to concentrate on delivering exactly what they advertise as opposed to trying to offer an all in one solution.
The Herbalife 24 products he has been using are CR7 Drive, Rebuild Strength and Restore which all provide different outputs depending on the type of exercise you are undertaking.
In order to develop CR7 Drive product, Herbalife 24 teamed up with esteemed footballer Cristiano Ronaldo, as well as experts in sports nutrition to develop a carbohydrate-electrolyte drink which is high in Vitamin B12 which helps to keep your immune system and heart in good shape as well as helping to reduce tiredness and fatigue. Robbie has been running a lot recently before his holiday and whether he is doing a steady run or HIIT (High-Intensity Interval Training) session this product helps a lot to keep you hydrated and it tastes brilliant. He tends to drink CR7 during his run but has also drunk the whole lot prior to running before and still felt the same benefits. This is not a pre-workout drink and isn't jam packed full of caffeine so you will have no problems sleeping at night after using it!
For their Rebuild Strength product Herbalife 24 teamed up with sports nutritionists in order to develop a unique carbohydrate-protein recovery drink which is designed for use after anaerobic exercise. Each shake contains roughly 25g of protein which contributes to the growth and maintenance of muscle mass as well as Iron which contributes to the normal formation of red blood cells. After a HIIT cardio workout or combined HIIT cardio and weights session Robbie will take a shake immediately after finishing his workout which definitely helps to cure the DOMS (delayed onset muscle soreness) that can wreak havoc after strenuous exercise. Like the CR7 Drive product this tastes great and isn't a horrible grainy protein shake that you often find.
Restore has been produced with athletes in mind, and even if you do a good amount of exercise each week this is a good product for you as it contains 200mg of Vitamin C which helps to keep your immune system in check during and after intense exercise. These little capsules also contain 150mg of Lactium which is derived from a form of Casein, which helps to rebuild your muscles slowly whilst you sleep at night. For use, all you have to do is take one capsule prior to bed and let it do the business. Results won't be seen immediately and we will always have aches and pains but these little capsules help to support the body's natural response to temporary, exercise-induced Muscle Inflammation.
Since starting his journey with Herbalife 24, Robbie has seen a significant improvement in both his aerobic and anaerobic fitness. Run times have also improved by approximately 2 minutes in just over a month of use, in addition to strength levels and stamina whilst completing a HIIT weights session. This means he can now slowly build up the time of his workouts each time, thus in turn improving overall muscle strength and stamina. If you are looking to start your very own fitness journey or looking for a change in the supplements you use, Herbalife's 24 range is definitely one to take seriously in amongst the chaos that is the fitness supplement world.
All of the Herbalife 24 product range are on the Informed Sport website meaning that they have been tested for banned substances. For personnel serving in the Armed Forces, Police and also for competing athletes the Herbalife 24 range is cleared for lift-off.
In order to get your hands on the Herbalife 24 range you can contact your nearest Independent Herbalife Member here.
*Middle Aged Man was sent product samples for review purposes, all thoughts portrayed are his own.