Healthy Crab and Corn Chowder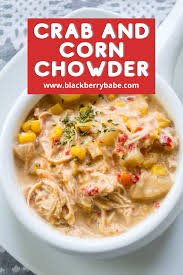 Monday, July 12, 2021
Neil Coombs
Healthy Crab and Corn Chowder
With a clever recipe makeover, you can cut calories and fat, and boost nutrition.
I don't know if anyone has done a 'Recipe Makeover' cooking show. If it hasn't been done, it should be. A successful recipe redo can be just as exciting and dramatic as anything you see on reality television, where a change of someone's hair, makeup or clothing makes for a stunning transformation. You start with an 'ugly duckling' of a recipe—one loaded with extra fat and calories—and turn it into a 'beautiful swan' of a dish that's loaded with nutrition. Not long ago I gave you some general tips for giving your recipes a makeover, but today I want to walk you through the process with a real recipe makeover.
Recipe Makeover – look it over and decide what to change
I don't always follow recipes to the letter, especially when the recipe sounds good but I can tell from the ingredients that I could give it a makeover to make it healthier. I came across this recipe for a Crab and Corn Chowder that sounded like it could make a nice winter meal with a salad—until I saw how much fat was in it. Here is the ingredient list for the original recipe:
Crab and Corn Chowder – original recipe
3 cups / 24 oz corn kernels
4 cups / 32 fl oz chicken broth
3 cups / 24 fl oz whipping cream
2 Tablespoons vegetable oil
8 slices of bacon (reserve 3 Tablespoons of bacon drippings after cooking)
1 ½ cups / 12 oz chopped onion
1 ½ cups / 12 oz chopped leeks
¾ cups / 6 oz chopped celery
1 tsp. fennel seeds
1 ¾ pounds white potatoes, peeled and cut into cubes
2 Tablespoons of butter
6 ounces sliced mushrooms
2 Tablespoons dry sherry
1 tsp. thyme leaves
1 pound crabmeat
2 Tablespoons chopped parsley
As I looked this recipe over, there were a few obvious things that jumped out at me: the 3 cups of whipping cream, the 7 Tablespoons of added fat (from the oil, the bacon fat and the butter), and the bacon. While there are some veggies in the soup, I thought that I could add even more to give it more color, flavor and nutrition.
Crab and Corn Chowder: step-by-step healthy makeover
Here's what I did to give this yummy dish a healthy makeover—and keep the taste.
Replaced 3 cups of whipping cream with 2 cups of low-fat milk and 1 cup of plain, nonfat Greek-style yogurt. This reduces the fat dramatically, but keeps the creamy texture.
Omitted the bacon (used to garnish the soup) and replaced it with some toasted walnuts instead. This eliminated the bacon grease, too. The omega-3 fats in the nuts are much healthier than the saturated fat in the bacon, and the nuts add a nice flavor and texture on top of the finished soup.
Reduced the oil from 2 Tablespoons to 1, switched from vegetable oil to olive oil, and eliminated the butter entirely. The oil in the original recipe was used to sauté the onions and leeks, and the butter was used to sauté the mushrooms. But I couldn't see any reason why they needed to be cooked separately, so I just cooked them all together while using less oil.
I used some of the potatoes to thicken the soup, instead of the heavy cream in the original. Instead of leaving them all in chunks, I pureed some of the potatoes with the broth to thicken up my soup. That meant I could add more broth to the soup and get 2 more servings.
I added a pound of chopped spinach to my chowder. It gave it a beautiful color, and boosted the nutrition considerably. The addition of the spinach and the broth from the step above also increased the number of servings by 2, which also helped to reduce the calories per serving.
Crab and Corn Chowder – light version
This looks like a lot of prep work, but this soup actually goes together very quickly.
½ cup / 4 oz chopped walnuts
1 pound frozen chopped spinach
3 cups / 24 oz corn kernels (can be fresh, frozen or canned without salt)
1 Tablespoon olive oil
1 ½ cups / 12 oz chopped onion
1 ½ cups / 12 oz chopped leeks
¾ cups / 6 oz chopped celery
6 ounces sliced mushrooms
1 ¾ pounds white potatoes, peeled and cut into cubes
5 cups / 40 fl oz chicken broth
2 cups / 16 fl oz low-fat milk
2 Tablespoons dry sherry
1 tsp. fennel seeds
1 tsp. thyme leaves
1 cup  / 8 fl oz plain nonfat Greek yogurt
1 pound crab meat
salt and pepper to taste
2 Tablespoons chopped parsley
Directions:
Prepare walnuts: Sauté over medium-high heat in a dry skillet until lightly toasted. Set aside.
Prepare spinach: Thaw frozen spinach in a bowl in the microwave. Pour into a strainer and squeeze to remove as much liquid as possible. Set aside.
Prepare corn kernels: If using fresh corn, cut the kernels from 6 cobs and set aside. If using frozen corn kernels, thaw briefly in the microwave and drain. If using canned corn, drain liquid. Set corn kernels aside.
In a large stock pot, heat the olive oil over medium-high heat. Add the onions, leeks, celery and mushrooms and sauté for a few minutes until vegetables are starting to soften.
Add the potatoes and stir for a minute or two, then add the chicken broth and the low-fat milk. Add the sherry, fennel and thyme to the pot. Bring to a simmer for about 10 minutes until the potatoes are tender.
Remove about 2 cups of the mixture. Try to get mostly potatoes and just a little bit of broth, and whirl in the blender until smooth. Then add back to the stockpot.
Stir in the spinach and corn, and simmer until heated through.
Lastly, add the nonfat yogurt and the crab meat, and stir over medium heat until just warmed through (don't boil hard or the yogurt will curdle). Check the seasonings, and add salt and pepper to taste.
When ready to serve, garnish with a sprinkle of parsley and toasted walnuts.
***
Recipe Makeover – fewer calories, less fat, more nutrition
I was really happy with my version of this soup. It tasted great, and I was able to make it much healthier. And just look at the nutrition comparison! I've retained the protein, but cut the calories by more than half, reduced the fat by 85%, doubled the vitamin A and increased the calcium by 100 mg!
| | | |
| --- | --- | --- |
| Per Serving | Old Version (8 servings) | New Version (10 servings) |
| Calories | 700 | 300 |
| Protein (gm) | 24 | 24 |
| Fat (gm) | 51 | 7 |
| Carbohydrate (gm) | 41 | 38 |
| Vitamin A (IU) | 1725 | 3863 |
| Calcium (mg) | 131 | 230 |