Get festive this Christmas with our delicious vegan chocolate truffles 🥰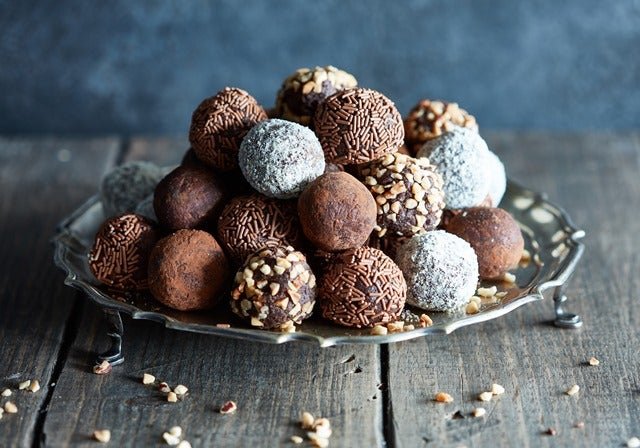 Friday, December 02, 2022
Neil Coombs
Get festive this Christmas with our delicious vegan chocolate truffles 🥰
Vegan Chocolate Orange Truffles
Preparation time: 15 minutes, plus chilling
Cooking time: none
Makes 18
Ingredients:
400g tin low-fat coconut milk
85g dark chocolate
Preparation:
1. Place the tin of coconut milk in the fridge and leave for four hours or overnight. Once chilled, open the can and drain out the liquid into a jug. This can be used as coconut water as a drink or in a shake. Scoop out the thick coconut cream, which should weigh 170g, and transfer to a large bowl.
2. Reserving 1 tbsp of the F1 Chocolate Orange and setting aside on a plate, mix the F1 Chocolate Orange into the coconut cream. Break the chocolate up into pieces and place in a small microwaveable bowl, then melt in the microwave for 1 minute or until you can stir it smooth with a fork. Stir the melted chocolate into the coconut cream mixture, then transfer to a bowl and chill for 30 minutes.
3. Scoop about 25g of the coconut cream mixture into your hands and roll into a small ball. Roll the ball in the reserved F1 Chocolate Orange. Arrange in a bowl and serve or chill until you eat.