Chocolate and Coconut Protein Fudge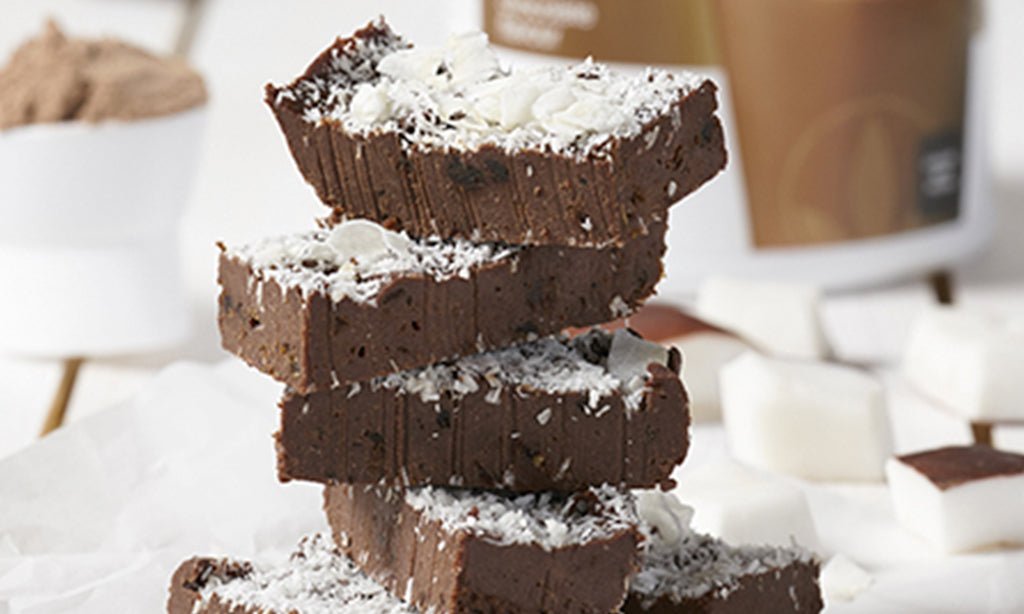 Friday, October 01, 2021
Neil Coombs
Chocolate and Coconut Protein Fudge
Certain smells and flavours have the power to transport you to spectacular summers past, don't they? The coconut aroma of sunscreen and tropical holidays, the richness of the perfect rum and raisin ice-cream cone on a day at the seaside… one sniff and it takes you right back.
It was these evocative smells and memories that inspired our nutrition team to come up with a brilliantly simple yet completely delicious recipe for heatwave-friendly frozen sweet treats that pack a satisfying protein punch. Here's how to whip up the taste of summer in just minutes:
Serves: 12
Prep time: 10 minutes
Cook time: 30 minutes

Ingredients:
3 scoops Herbalife Formula 1 Chocolate
15g cocoa powder
60g coconut oil
60ml full-fat coconut milk
60g raisins
1 tbsp desiccated coconut
Method:
In a food processor or blender, combine all of the ingredients except for the desiccated coconut. Blend until smooth.
Line a small baking dish with cling film and transfer the mixture to the dish, smoothing it down with a spatula to create a nice even layer.
Sprinkle with desiccated coconut and transfer to the freezer to set for around 30 minutes. Once firm, slice into bite-sized pieces and enjoy!
Your freezer fudge can be stored in a sealed container in the freezer for up to 3 months.
Mix it up: Instead of making bite-sized pieces, try pouring the mixture into small lolly moulds for the ultimate protein popsicle.
Nutrients per serving*
Nutrients per serving:
| | | | | | | |
| --- | --- | --- | --- | --- | --- | --- |
| | Energy (kcal) | Fat (g) | Carbohydrates (g) | Sugars (g) | Fiber (g) | Protein (g) |
| Per serving | 88.9 | 6.9 | 6.2 | 4.5 | 1.1 | 1.7 |