A Roast with the Most: Fall Harvest Veggies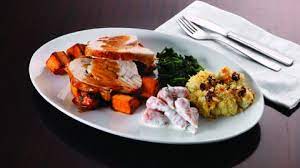 Monday, July 12, 2021
Neil Coombs
A Roast with the Most: Fall Harvest Veggies
The change of seasons brings with it a new group of fruits and vegetables. Apples, root vegetables like carrots and sweet potatoes and all the cabbage family foods, like broccoli and cauliflower, are at their peak now. And many are great for roasting—one of my favorite fall cooking methods.
With the grilling season over, I start giving a lot more foods the roasting treatment. The oven's dry heat will caramelize the natural sugars in foods and brings a depth of flavor to fruits and vegetables that summer grilling can't touch.
Root Veggie Roast
If you've never roasted root vegetables, you should give it a try. Roasted carrots are particularly delicious. Toss them with a little olive oil and balsamic vinegar, sprinkle with salt and pepper, then spread out on a cookie sheet and roast at 425 degrees for about a half hour until they're tender. The vinegar turns into a sticky, syrupy glaze that coats them irresistibly. You can give the same treatment to sweet potatoes or beets—tossing them with something tart before roasting, like lemon or lime juice, vinegar, or even pomegranate juice to contrast with their natural sweetness.
Roasted veggies make a great side dish, but on the off chance there are any leftovers, they're great added to soups and stews. Or you can slice them up cold and dress with vinaigrette, or add to mixed greens to give some fall flavor to your tossed salad.
Cauliflower Power
I was never much of a cauliflower lover until I started roasting it; now it's become a fall staple at my house. Roasting softens the strong flavor. The cauliflower gets sweeter, and the texture becomes almost meaty. I coat the florets and a sliced onion with a dash of olive oil, sprinkle with salt, pepper and curry powder and then roast. Broccoli and Brussels sprouts—other veggies that are often a hard sell—are also delicious roasted with some oil and garlic.
You can roast fruits, too. Fall apples are fantastic when they're prepared this way. Pretty much any variety will do, and you don't need to peel them. Just cut in halves or quarters, remove the core and spread them in a single layer on a cookie sheet, sprayed with nonstick spray and roast like you would the veggies. You can toss them with a little lemon juice, apple juice or, if you want, spices first. But if you start with tasty fresh apples, they're really good on their own.
Here's another fall favorite recipe:
Roasted Brussels Sprouts with Garlic and Parmesan
Even those who think they don't like Brussels sprouts will admit that these are delicious. Roasting quickly with high heat mellows the flavor, and the Brussels sprouts end up tender and sweet. Tossed with a little fresh garlic and parmesan cheese, they make a fantastic side dish. If you have any left over, refrigerate and add to a tossed green salad the next day.
1 pound fresh Brussels sprouts
2 Tablespoons + 2 teaspoons olive oil
1/2 teaspoon salt
1/4 teaspoon ground black pepper
1 clove garlic, minced
2 Tablespoons parmesan cheese
Preheat oven to 400 degrees. Line a baking sheet (large enough to hold sprouts in a single layer) with foil, and drizzle with 2 teaspoons of olive oil. Place baking sheet in the oven while you prepare the Brussels sprouts. Trim the ends of the Brussels sprouts and cut in half. Place in a medium bowl and add 2 Tablespoons olive oil, salt and pepper. Toss to coat with olive oil mixture. When oven is hot, toss sprouts onto prepared baking sheet. Roast for about 20 minutes or so, shaking the pan every 5 minutes until some of the outer leaves are nicely browned and crispy and sprouts are tender. Transfer Brussels sprouts to a serving bowl, add garlic and parmesan cheese and toss to coat.